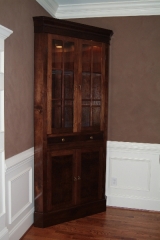 Corner Cabinet
This Corner Cabinet is a reproduction of the original as designed by Michael McDunn. The bottom doors, middle drawer and crown molding are created using dramatic figured accent wood.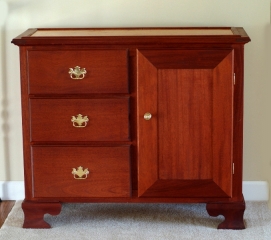 Gentleman's Bar / Foyer Cabinet
This multi functional cabinet serves a variety of purposes for the discerning home decorator. It has been used as an attractive gentleman's bar for displaying crystal decanters or as that striking first impression piece in a foyer entry. The top is inlaid with quilted maple.